Our Team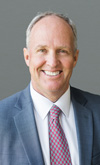 Michael Forbes, Senior Vice President, Financial Advisor, Co-Branch Manager mforbes@dadco.com
Michael Forbes, with 32 years of experience in the financial services industry, has brought together a team of professionals to ensure his clients receive efficient, knowledgeable and friendly financial planning advice and service. As your Financial Advisor, Mike will coordinate the financial planning process for you, helping you to identify your goals and working with you to implement a series of strategies designed to help you realize your vision for the future.
Mike became a Financial Advisor with Boettcher & Company in 1984 after graduating from Utah State University with a bachelor's degree in political science and minor in business administration. Prior to joining D.A. Davidson in 2009, Mike was a Senior Vice President and Utah Branch Manager at A.G. Edwards for 18 years. He continues as Senior Vice President and Co-Branch Manager for D.A. Davidson's three Utah offices.
Mike believes in trusted advice, exceptional service and applies this to his process for managing client assets and building wealth. He served on the District 3 NASD Business Conduct Committee from 1995 to 1998 and has been actively involved in many activities, including Boy Scouts of America, coaching baseball, serving on the board of Eye Care for Kids and international humanitarian volunteer work. Mike has been married to Melanie Forbes for 35 years and they have five grown children and 12 grandchildren.
Colin Forbes, Financial Advisor  cforbes@dadco.com
Colin Forbes focuses on offering exceptional financial advice through implementing technology and custom, personalized financial plans for clients. Colin will work with you to assess your goals, build a plan, and make recommendations that will give you a clear path. Colin believes that a financial plan is not a one-time event, but a process that needs to be regularly reviewed to keep you on track as you build and grow wealth.
Colin worked as an Intern and Advisor Assistant from 2010-2011 at D.A. Davidson and joined the Forbes Financial Advisor Group as a Financial Advisor in 2016. Prior to joining D.A. Davidson as an Advisor, Colin spent six years at Larry H. Miller Sports & Entertainment. While there, he worked as a Group Sales Account Executive for the Salt Lake Bees and Utah Jazz before being named Group Sales Manager for the Salt Lake Bees.
Colin has been married to his wife, Ashley, since 2009 and they have three children. Colin is a youth leader at his local church and enjoys baseball, nonfiction reading, mountain biking, running, golf, woodworking and traveling.
Wendy Kilbourne, Client Associate, Branch Administrator   wkilbourne@dadco.com
Wendy Kilbourne ensures that clients receive the best possible service. She will book appointments for you and is the first person to call if you have any questions about your financial planning process. She will make sure that the appropriate member of our team responds to your query.
A native of Salt Lake City, Wendy joined D.A. Davidson in 2009 as Branch Operations Manager. Prior to joining D.A. Davidson, she worked at A.G. Edwards as Branch Operation Manager with Michael Forbes from 2002 to 2009. She has worked in the brokerage industry since 1987. Wendy enjoys spending time with family and friends, especially with her niece and nephews as their favorite aunt. She also likes to garden and sew.